Membership marketing is a term that's used a lot but not always properly understood. Let's change that.
We're going to guide you through some of the basics of marketing services for membership organisations. We're going to stay as true to the title of 'membership marketing made simple' as we can. Be warned, though, what's simple in theory becomes more complex when you look closer. We'll be trying our very hardest to explain the complexities in a simple way.
Anyway, first things first.
What is a membership organisation?
A membership organisation is, very simply, an organisation which has members. That might sound really obvious, but sometimes things really are just how they sound.
These organisations offer a variety of benefits to their members, often including discounts, events, networking opportunities, regular magazines or newsletters, and industry directories. You'll very often find they also act as a voice to represent its members and their interests, whether that's on behalf of an industry, a cause or a charity.
If we were to look at these organisations in more detail, we could split membership organisations into those which focus on members from particular industries, and those which cater to members of the public (charities are a good example of these).
Another way you could categorise them would be by looking at those where members can join for free, often because they hold a certain job or meet a certain requirement, or more commonly, those where members pay to join.
You might also find that a membership organisation offers different types or levels of membership, including both individual and group or corporate options. And each of those different membership types will have different marketing needs.
So you see, what started out as a simple 'organisation which has members' can become more complex when you look closely.
What is membership marketing?

Membership marketing is a specific kind of marketing approach used by these organisations. It's a complex mix of keeping your existing members happy and attracting new ones to join, all while consistently communicating the organisation's core values and purpose.
New customers might be attracted in a variety of ways, depending on their motivation. Some audiences will respond best to financial incentives (discounts, deals and offers), while for others they'll be closely aligned to the organisation's purpose, forming an emotional bond with the brand. Membership recruitment campaigns will be tailored to suit the type of member the organisation is after.
Existing customers will need to receive genuine value if they're going to renew a paid membership. It's vital that the content they receive really holds theirinterest and makes them feel excited to be associated with the brand. Retaining existing customers is just as important as attracting new ones.
And there are lots of different ways to achieve these.
What kind of services do membership organisations need?
All kinds (sorry, trick question)! Most will use regular newsletters or magazines to keep members up to date. They'll probably also run membership marketing campaigns designed to attract new members – and these might take in any kind of media from direct mail to TV and radio advertising, and social media advertising to email campaigns. They'll need a strong, consistent brand to tie all the different channels and messages together, photography and other images to make a visual impact, promotion and design for membership events, printing, media planning and media buying. And that's just a start.
In short, membership organisations will generally use a wide range of different marketing methods and services from an agency in order to meet the needs of their complex target markets.
Which leads us nicely on to… market segmentation!
Positioning and targeting a membership marketing campaign is absolutely crucial. Organisations might choose to target specific segments for new membership, but they'll also be segmenting their members so that they deliver them the right kind of content and support. A family with National Trust membership will have different needs to a single older person, for example.
All this requires a really detailed understanding of your audience(s), and access to a lot of statistical data, so that you can get the best value for money from your investment.
Finding an agency to handle the marketing for your membership organisation.
Marketing across a brand should be consistent, so it makes sense (and life easier for all involved) for all elements of membership marketing to be handled by one agency. That means you'll need to find an agency which offers a wide range of creative and media placement services. They'll also need a great track record using segmentation tools, so that you target your messages effectively. And the more experience they have the better, given the variety of different audience segments you'll want to reach out to in different ways.
Strangely enough, we think ma fits the bill perfectly – isn't that lucky!
Let's look at an example of our work with a membership marketing client.
Membership marketing case study: The Society of Independent Brewers (SIBA)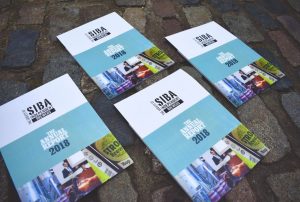 We've been working with SIBA since January 2015, bringing their brand design up to date and taking on their membership marketing. Neil Walker, their Head of Marketing and PR, says "It is a delight to work with ma. They deliver exciting creative, excellent customer service and great value for money."
SIBA was established almost 40 years ago to represent the interests of the growing number of independent breweries in Britain. Theirmembership is aimed primarily at the UK's independent breweries, however they also offer associate membership to suppliers in the industry. Today they have around 830 independent craft brewers as members and approximately 300 suppliers as associate members. The value of these two groups having access to a shared membership organisation is huge, so keeping SIBA relevant to both audiences is crucial.
A key part of our work with SIBA was the redesign of their logo and brand identity. The new look brought them up-to-date, giving them a modern, professional look which reflects the industry. Our work doesn't stop there though.
We continue to handle the design, creative, brand guardian elements, production, advertising sales and print for their quarterly membership magazine, SIBA Journal, which goes out quarterly. We also produce their annual Trade Directory and Annual Report. And then there's BeerX UK…
BeerX UK is the UK's biggest beer and brewing trade event, and it's held by SIBA annually. We handleall the design needs and promotion of this flagship event, including everything from the promotion beforehand to the event guide on the day itself – and plenty more in between.
Let us handle your membership marketing.
We've got all the skills and experience you need. And we love developing close working relationships with organisations which mean we get involved in all sorts of work for them.
If you'd like to find out more about how we can help you look after members of your organisation, get in touch. We'll take all the complexities of membership marketing and make it simple for you.