When they first come to us, most clients know how the creative process works. That's not always the case though.
Sometimes the individual (or team) simply doesn't have that experience behind them. And we're willing to bet that plenty more clients know roughly how things work but have questions they might feel silly asking…
We like to work closely with our clients, so it's in our interest that they understand the process. We don't expect them to be experts – that's what we're here for – so there's no such thing as a silly question.
That's why this post takes you through each stage of the creative process, using examples from one of our clients, Classiflora Zelari, along the way.
Let's give you some background before we start.
Classiflora is one of the UK's leading specialists in supplying hardy outdoor European plants, trees and shrubs. They're local to us, too, being based just down the road from Hertford in Waltham Abbey. We first worked together in 2018, and Andrew Dayes, Classiflora's Sales & Marketing Manager, says "Working with ma is easy, and the way they keep our business needs at the heart of the creative process really gets results. We love getting the final proofs, and are happy to be working together again this year!"
So, how does the creative process work?
Let's start with the basics. Once we have a brief from the client, we'll come up with several concepts for them to look at. Next, we'll all agree on which one to refine, and we'll work on that everyone's happy with it. We will then produce all the elements needed for the campaign for all applicable media platforms. And then, of course, the campaign can go live.
Sounds simple.
Like anything, it doesn't always work quite like this, but it's an excellent structure to start from. We pride ourselves on being flexible and delivering a service that works for our clients, so if things need to happen slightly differently, we'll work it out together.
It starts with the client brief.
The brief underpins the creative process. Its purpose is to tell us exactly what the client wishes to achieve. It'll cover the target audience, the purpose of the campaign, and maybe even ideas they've had already. Understanding all this is really important. At ma, we never produce creative work just for creative's sake. It's always, ALWAYS based on what we believe will get you the results you need from the brief.
We'll talk about the practicalities too, like key dates and budget. That way we can propose options which are realistic and achievable rather than ridiculous.
The brief underpins the purpose of the project and is the benchmark for evaluating all ideas that come from the creative process – why are we doing this and what is the expectation? With this understood, the thinking process begins at the conceptual stage.
Classiflora asked for help with the concept, design and promotion of their open days. They've been running these annually for over 20 years, showcasing their collections to existing and prospective clients. Their customers are garden centres, nurseries, property developers and landscape designers, but they also cater to bespoke projects. In both 2018 and 2019 we've worked with them on print adverts and invitations.
Having said that the brief underpins the creative process, the creative work really begins at the conceptual stage.
What is a creative concept?
A creative concept is the art of illustrating a spark of imagination to share, discuss and develop with others. For example, our creative director Darren always has a notepad with him and is a firm believer that the brain is at its most creative when it's relaxed from performing everyday tasks and can wander beyond restraint – so if that spark comes at 3am, in the bath or on the train, he gets it down. It also illustrates the reason why we need to have a good understanding with our clients as to how we work conceptually. Assigning x hours on x day to come up with a concept solution doesn't usually work. Immersing yourself in the brief followed by a brainstorming a session and then assigning time over a flexible period to return with concepts does.
A concept pulls all the elements of the campaign together. It's designed to grab the interest of your target audience, evoking their emotions and inspiring them. Every campaign has core messages to communicate, and we'll suggest several concepts we believe will give you the best chance of success.
We might use mock-ups and scamps at this stage, or perhaps a little later, to help show what we're thinking. Sometimes we'll send them to you, and other times they're more for our own use in the studio, so we're all on the same page. They're typically put together quickly, so expect anything from stock images to hand-drawn sketches, and very basic formatting. Seeing it on the page, as well as your feedback, will help us see what works and what doesn't.
We ended up meeting with Classiflora in person to talk through ideas, rather than sending them any scamps. We did put some together for our own use in the studio though, as you can see here (this example is from the 2018 campaign.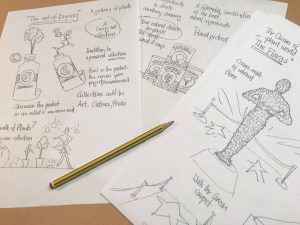 We worked up a number of concepts for Classiflora's 2018 Open Days. We wanted to create visual disruption and interest keeping away from the norm of standard plant imagery so that they really stood out in the trade press. Here are some of the concepts approaching the trade day from a different angle.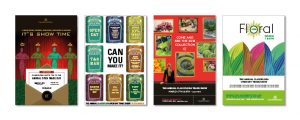 The concept we agreed on for 2018 was to present the plants as an art collection in a gallery.
Due to the success of 2018, for 2019 we were asked to evolve the "collection" concept. We put a few ideas forward…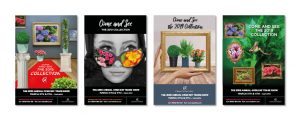 The favourite took its inspiration from the elegance and sophistication of Audrey Hepburn – a natural evolution from 2018 now the stage of artworking and roll out can begin.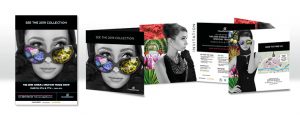 Refinement
Once the concept is agreed, we'll work on the design elements and formats you need. We might go through a number of stages to get them all to a point where they work for everyone involved.
We have a great working relationship with Classiflora and really speak the same language – so this process has been pretty straightforward.
Final proof
Once everything's complete, we'll produce the final proofs. These are the versions that are sent to the client for sign-off, ready for printing and publishing (which we can help you with too!).
Classiflora signed off the proofs in early 2019. They included a full page advert for the trade press, as well as the design and artwork for the invites.
Go live!
The final version goes out to its intended audience, and we all sit back and watch with interest. We've planned this carefully so the results should be good, but we'll still want to see what works best and anything we can improve on.
The invites went out, and full-page adverts appeared in HTA News, Garden Trade News and Garden Centre Retail. It's looking like the Open Days in March will be well-attended!
Let us take care of your creative and design needs.
To find out more, take a look at our creative pages and browse some of the work we've done before. We'll be waiting for your call!