When you see product photos, do you know what goes into getting the shots?
We're going to sneak you behind the scenes of a recent shoot we did for T-Rex® Waterproof Tape, including a few bits you might be surprised by. But first, some background about product photography and why it's important.
Product photography, or commercial photography, shows a product in an accurate and appealing way, aligned to its brand. It might show the product from different angles, in context or being used. The most obvious places product photos are used are packaging, catalogues and online product descriptions, but look and you'll notice them on retail landing pages, adverts, leaflets and more. In contrast, creative or advertising photos convey a feeling, concept or lifestyle, and sometimes won't even show the product!
At ma, our photographic services cover everything from location shoots to food and drink, products to people, but today we're shining the spotlight firmly on product photography, with a little help from T-Rex® Waterproof Tape (we'll call it T-Rex® from here). They asked us to come up with full-page adverts introducing the tape in UK trade magazines. You'll see from the final design that we needed product photos, so we'd have to set up a photo shoot to get them.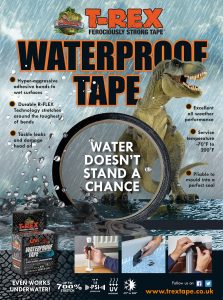 Why are product photos important?
Product photos matter because they show your product clearly, in a good light, being used, and in context. For the T-Rex® adverts, we wanted shots which demonstrated how the tape could fix leaks in lots of different scenarios.
What goes into getting a great product shot?
We won't go into technicalities, but good lighting, professional knowledge of composition and angles, an appropriate backdrop, and a clear plan of what shots you need, make all the difference in getting right pictures. There's more to a good product photo than snapping a picture on your phone!
So, where do you start?
As always, we start with a clear brief and concept. We want to understand how and where the shot will be used, what it needs to show, and who to. If it's going to sit alongside artwork and graphics, they need to work together, and that was exactly the case for the T-Rex® photos for the final advert.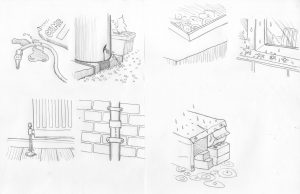 We work backwards to storyboard a product shoot.
First, we decide what the end shot needs to show, then we work out what other shots we need to get there. For T-Rex® we wanted an end shot showing how the fixed leak, so we worked backwards to the problem (leaking radiator, hose, guttering, window) and added a shot showing tape being applied, before that final shot.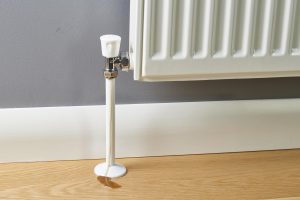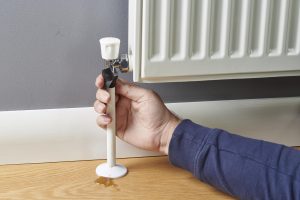 Once you've got your storyboard, it's time to source your props and set!
You've got the product itself, but you'll also need to think about the background (a plain backdrop or a full set build) and props if you want to show it being used. And for most shoots, you'll need studio space to work in!
We had plenty to source for the T-Rex® photos. We took a memorable trip to buy the water butt, guttering, hosepipe, window and radiator, just so we could put holes in them. The shopping list also included plants, gravel and paving to create an 'outdoor' set within the studio, and we built a set for the radiator, guttering and window. We needed to control the leaks, so we rigged the set so water could be poured from a jug just out of shot. You never know what you'll end up doing in this job!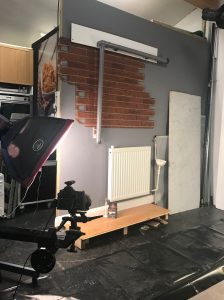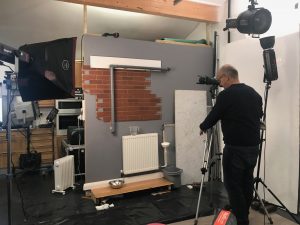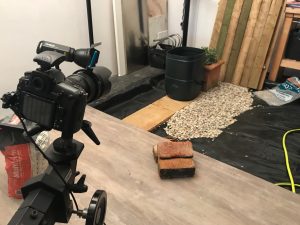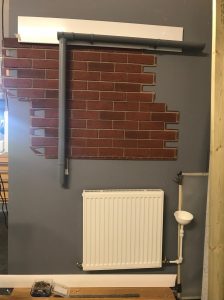 Find the right people.
Naturally, you'll need a good photographer who specialises in product photography and has the right kit to do the job well. We've got great relationships with photographers for all types of shoots, so we knew exactly who to call!
You'll also need people to art direct, build sets, make tea… extra pairs of hands. If you want someone in the shot itself you'll need to work out who that's going to be!
For the T-Rex® shoot, Creative Director Darren art directed, built the set and even features as the hand model! The photographer's assistant was also there and helped build sets, pour water and set up shots.
You're ready for the shoot.
The biggest mistake you can make at this stage is rushing. Take the time to do things properly. As with anything, some tasks will take longer than you'd planned, but after all the preparation you've put in, give the shoot the time it needs. The shoot for T-Rex® took three days.
Final edits for the perfect photographs.
Just as people edit selfies, your photos may need the odd edit. While it's important not to change the look of the product, we might enhance colours, adjust the composition and tidy up the shot. Once that's done and the photos are sized correctly, you're ready to go!
We can help with every stage of your product photo shoot.
We can plan the concept, prep and take the shots, edit and even handle production and printing for whatever they're being taken for. Talk to us today about photography.