Last week's (w/e 19th June) UK Mobility Index was 69.5, up from 68.1 (w/e 12th June) versus the lockdown baseline of 100, according to data from our mobile partner Three UK.
So, overall UK mobility is now just under 70% of 'normal' and still increasing.
On June 15th we saw the opening of non-essential retail stores in England, which resulted in increased movement in the more  urban areas and city centres with gains in some of these areas four times that of the overall weekly increase.
North Scotland, Border and South West areas are all now within 20% of their normal movement. Despite this being versus a baseline based on February movement, this is still a major milestone in terms of regional movement getting towards to pre-lockdown levels.
DETAILED INSIGHTS
More areas are getting more mobile; 16% more postal sectors saw a week on week increase in mobility vs. week ending 12th June. Many of these are the areas rich in retail outlets and work-spaces. That is not to say we are less local, there is still plenty of movement in the suburbs, but now urban areas and city centres are also seeing large increases in mobility. In London's West End, for example, 80% of postal sectors saw an increase in mobility. Across the country in Birmingham, Wolverhampton, Liverpool, Leicester, Manchester, and many other towns and cities, retail focussed areas saw mobility increases as high as 8% week on week.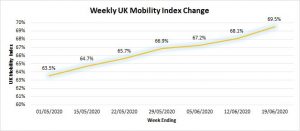 Whilst the percentage changes are not vast, we must consider that retail movement accounts for just one part of our mobility so we are not expecting to see huge increases week on week until lockdown restrictions are relaxed further, taking us more towards 'normal' mobility. Nevertheless, these gradual, weekly increases are driven by millions of people and in turn deliver millions more OOH impacts. This latest increase sees an estimated additional 2.1 million weekly digital 6-sheet impacts plus an estimated additional fortnightly 27 million roadside (classic) 6-sheet impacts added to national UK OOH delivery.
With the prospect of further easing of restrictions and increasing of movement across the UK now is the time to lock in the value from a resurgent OOH.
CATEGORY TRENDS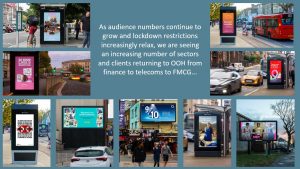 Demand from the market for June onwards is predominately still on roadside formats & POS, with interest starting to grow for Aug-Sept onwards in Malls.
Short term June interest amongst brands & categories that have association with sports (i.e. gambling & broadcasters), as we see the return of the EPL and horse racing amongst others.
More confidence from the Entertainment/Theatrical category, as film houses start to firm up OOH plans for Q3, some from as early as July.
Motors interest is high for Q3 and in late June other brands are returning to roadside for branding/product messaging.
POSITIVE SIGNS
We've seen an interesting array of facts & stats from various media owners over the last week, a few standout ones are as follows…
London Taxis
– Taxi journeys down major retail streets are back at 82% of pre-covid levels
– Taxi journeys through the West End are back at 65% of pre-covid levels.
– Covent Garden is at 88% of normal journey levels over the last 7 days as retail has reopened
– Taxi journeys to rail stations are at 42% of pre-covid average.
Rail Stations
– Network rail showed an average 20% weekly increase for Monday 15th June vs Monday 8th June
– Stations such as London Kings Cross & Liverpool Lime St saw numbers up by a third.
Shopping Malls
– Westfield London & Stratford reported a 356% increase in footfall on their first two days of 'normal' trading and are back to 50% of pre lockdown levels.
– The JCD mall portfolio showed a 172% audience increase with some of the largest focused on the out of town (car rather than public transport) destination malls like Bluewater, Metro Centre and Lakeside.
– JCDecaux's mobile audience tracking data for Mon 15th & Tues 16th June showed a 79% increase in the Oxford Street audience for their Digital 6-sheet network.  Across the UK they saw an 82% increase in the audience for their digital high street 6-sheets.
TRUSTED & EFFICIENT
As these behavioural changes continue, OOH will be a critical channel for brands to shift brand metrics and equity scores, especially important during times of economic uncertainty. OOH is well placed in this recovery due to its ability to reach large audience volumes very quickly, which is essential for shifting brand metrics scores. Of those metrics, OOH particularly excels at trust, which at times of economic downturn time is even more important to communicate, as consumers look to spend their money on products and brands they know they can rely on.